---
ABOUT THE EVENT
CPB Learning Lab in collaboration with Thinnai Talkies presents
Women's month film screening - Celebrating the women behind the camera and a step to address the gender gap behind the lens. We have 8 documentaries screened across 2-days.
4 films by our Kanavu fellows and 4 films by independent women filmmakers. Theme of the Month: 'Autonomy'- the right of a person to control his/her/their own affairs.
Join us to witness the "theme" come alive!
25 & 26 March 2023 | 5 pm - 9 pm | Svah, Besant Nagar, Chennai.
Sponsored by AGS Cinemas
Venue Partner: Svah
Presenting Partners:
Chennai Photo Biennale
SPI Edge
Studio A by Amar Ramesh
---
SCHEDULE (8 films across 2 days)
DAY 1 & 2 Screening:
Films by Kanavu fellows (40 mins)
Si(r)ppikul Muthu - Sowndarya M
KAIVANNAM- Pushpanjali A.S
Zenithian - Lavanya K
Thedum Theneekkal - Murugeshwari M Films by Independent women filmmakers
DAY 1
Made in Madras by Shikha (8 mins)
Nokkuvidya by Reshmi Radhakrishnan (30 mins)
DAY 2
A Short FilmAbout....(27 mins)
Small-time Cinema by Priya Naresh (29 mins)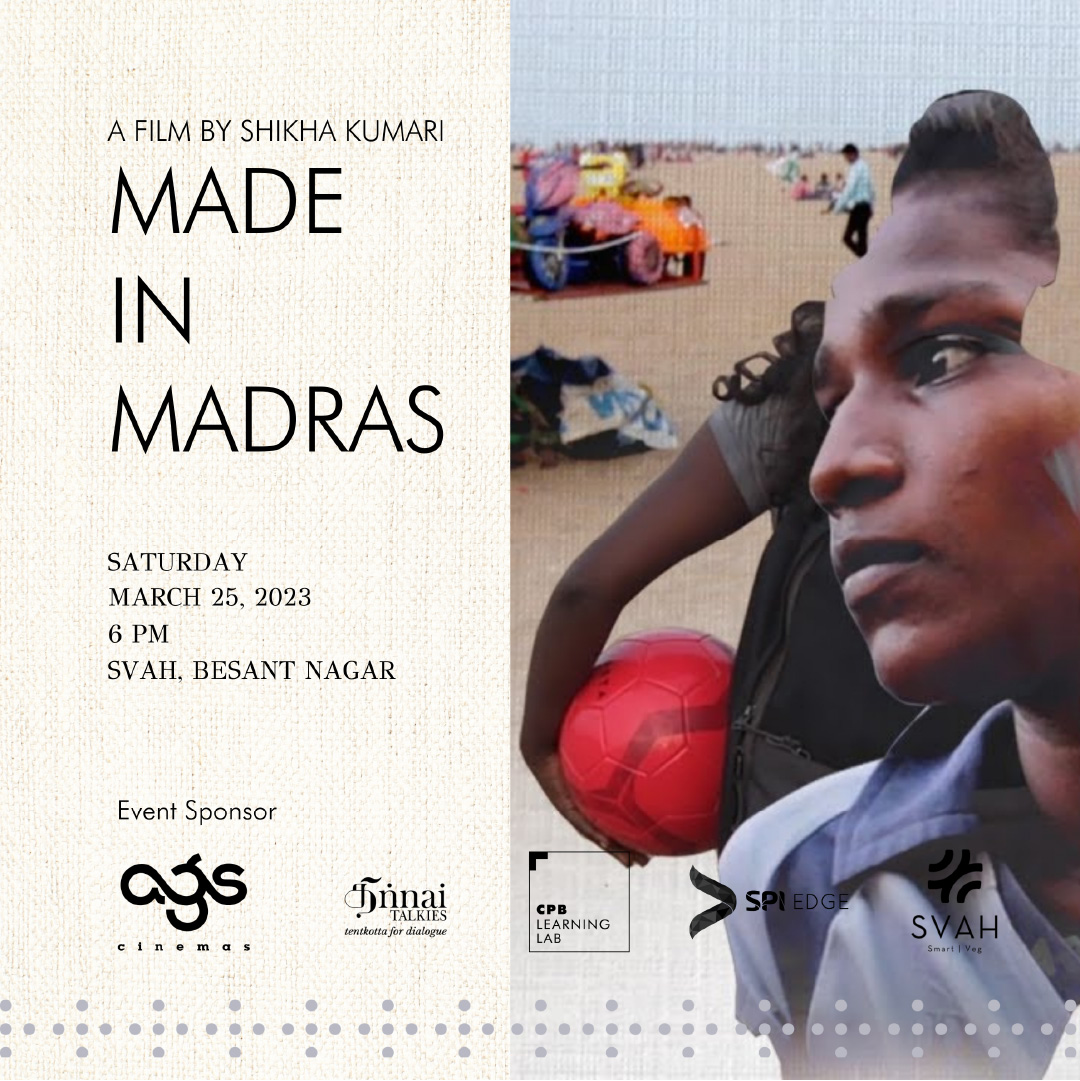 ---
Made in Madras By Shikha Kumari
Made in Madras is the story of an 18-year-old soccer player, Sangeetha, who lives on the streets of Madras. This documents her journey through the struggles of living on the streets to becoming a successful soccer player.
About the Filmmaker
Shikha Kumari is a filmmaker and artist from Chennai. She is currently an executive producer with The Hindu Group. She has always been passionate about telling stories through film and visual art.
As a filmmaker, she has directed and produced several news stories and documentaries that have been screened at film festivals around the world. Her film "Made in Madras" won several awards at the My Hero Film Festival and was screened at the Chicago Reels Film Festival, USA, the Laguna Film Festival, USA, and in all the major cities in India. In addition to filmmaking, she is also an artist who works in a variety of mediums.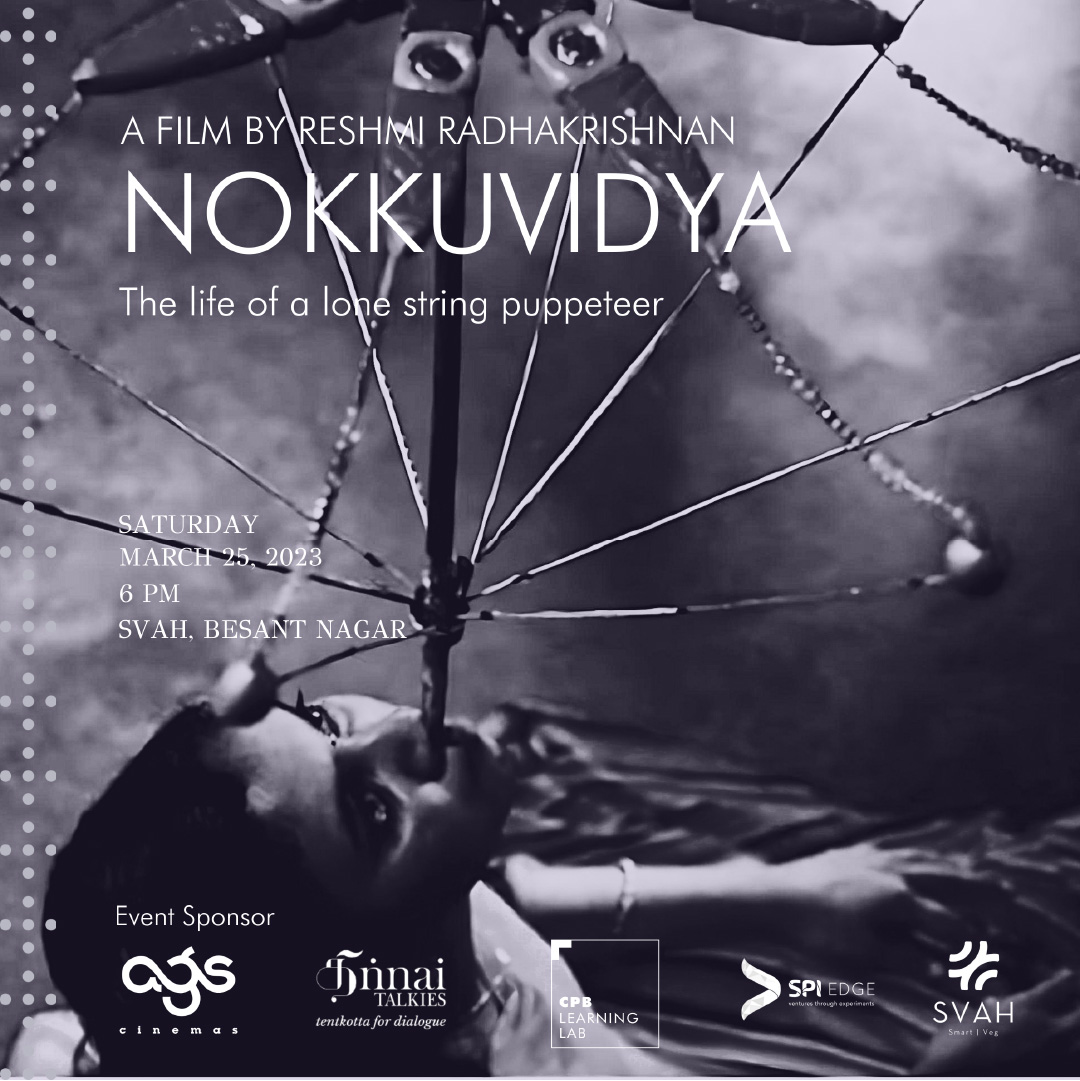 ---
Nokkuvidya the life of a lone string puppeteer By Reshmi Radhakrishnan
The art form called Nokkuvidya has a woman sitting on the ground with a stick holding puppets balanced in the space between the nose and upper lip. Reshmi has documented the life of the last lone puppeteer, Pankajakshi. The documentary film puts the spotlight on the form of puppet theatre in Kerala that has only one practitioner left. The documentary unfolds the life of Pankajakshi, from the perspective of Renjini, the granddaughter of the lone surviving puppeteer.
About the Filmmaker
Reshmi Radhakrishnan is a freelance journalist and an independent documentary filmmaker. She regularly contributes columns in online media on women, art and cinema. 'Nokkuvidya - The Life of a Lone String Puppeteer' is her first documentary.
---
A Short Film About..... By Divya Sachar
This film from 2010 is screened at various festivals across Bangalore, Delhi, Hyderabad, Karimnagar, Kolkata and Thiruvananthapuram. It is a look at how some urban Indian women view their breasts.The film received critical acclaim and a tremendous audience response, and aired on national television as well.  
About the Filmmaker
Divya Sachar is a Delhi based filmmaker, photographer and writer. She has completed her Masters in English Literature from Delhi University and a postgraduate specialization in Direction from the Film and TV Institute of India, Pune. Her first film as a Director dealt with the theme of unhealthy body images among urban Indian women. The film received critical acclaim and a tremendous audience response, and aired on national television as well. Her second film, Searcher, is about her schizophrenia. She also writes on films and the visual arts, and has a previous background of being a theater practitioner and a journalist. She has taught Photography, Screenwriting and Film Direction to university students as well.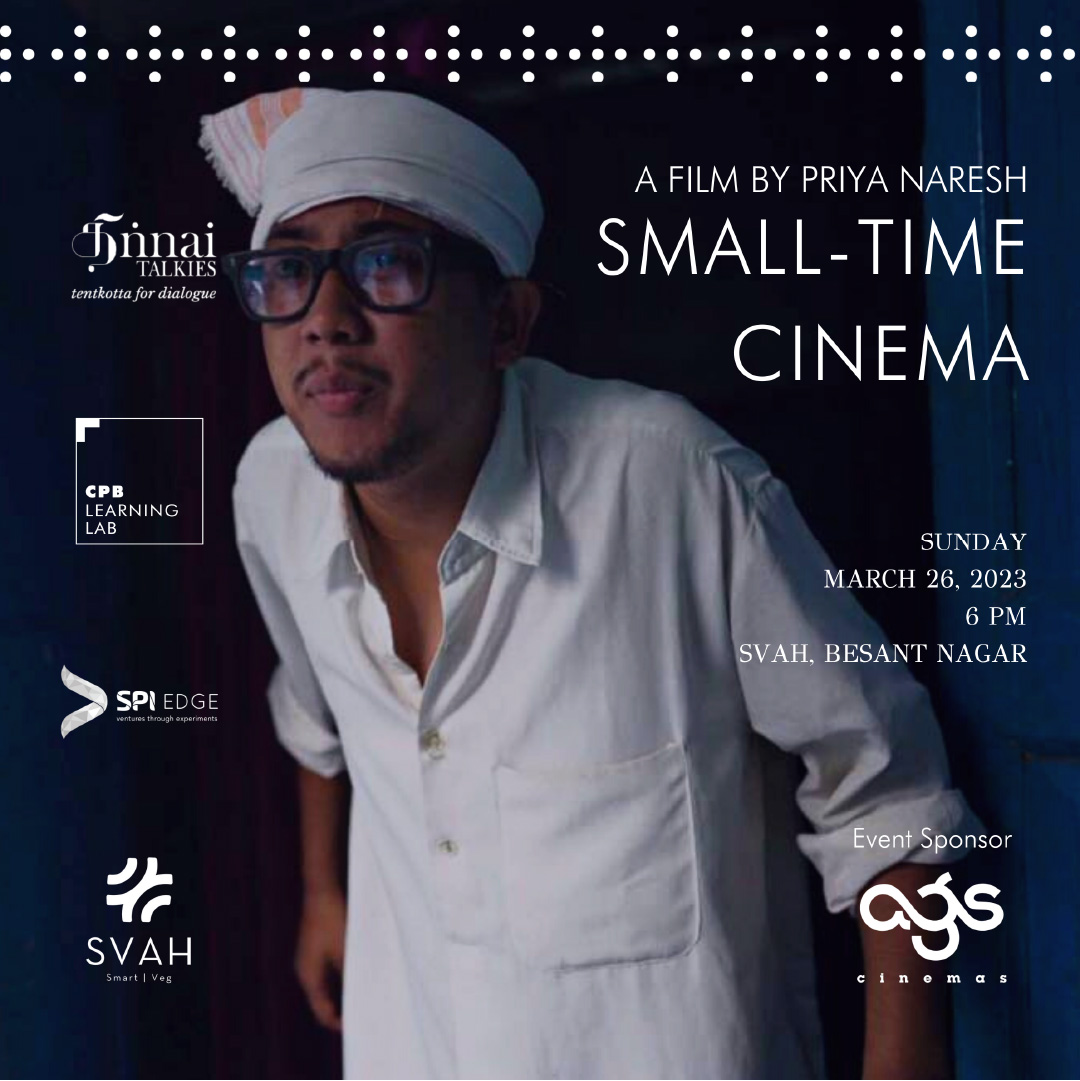 ---
Small-time Cinema By Priya Naresh
Small-Time Cinema is a documentary that follows two Youtube filmmaking groups, one living in Balochistan, Pakistan, and one, in Assam, India. The film follows these groups, as they make space for their complex history and cultures, beyond a blanket Indian or Pakistani identity.
About the Filmmaker Priya Naresh is a filmmaker based in New Delhi. She has made two short fiction films and two non-fiction films. Her curiosity lies in exploring the space between fiction and non-fiction film practice.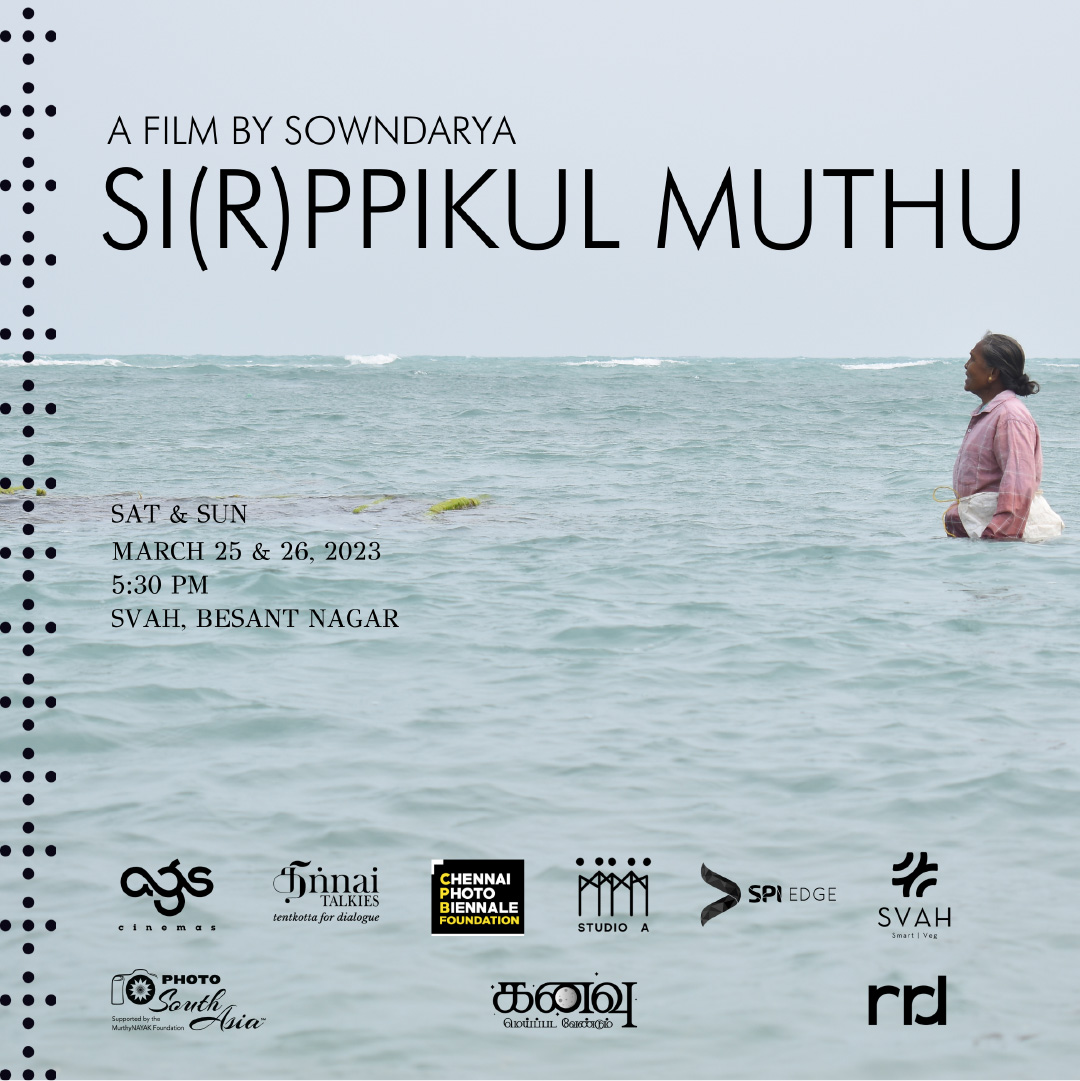 ---
About the Film
Si(r)pikkul Muthu is a documentary Film is about Suganthi from Rameshwaram. A sea based worker, who collects shell from the sea and makes crafts. She is also a certified shell crafting training in Ramanathapuram. The film is about her difficulties and her dreams.
About the Filmmaker
Sowndarya is one of the Kanavu Fellow, a toddler photographer. She is the first female Photographer in Ramanathapuram, she has studied engineering in Chennai and aims to build a career in photography.
---
About the film
Kaivannam is film that aims to create awareness about the conservation of wild life through wild life art created by artists from a small village Murungapakkam in Pondicherry .
About the Filmmaker
Pushpanjali, a Kanavu Fellow and a former montessori trained teacher from Chennai. She is an entrepreneur aims to learn photography and become a toddler photographer.
---
About the Film
Zenithian is the story of such J. Alibasaha who has been giving free food and education to the underprivileged and poor students in Tiruvottiyur, Chennai for 30 years.
About the Filmmaker
Lavanya is a Kanavu Fellow and a social worker from Chennai. Currently employed at a private firm, Lavanya is passionate to continue her social work while simlutaneously learning photography to document her work.
---
About the film
Thedum Theneekkal is a documentary about the lifestyle of tribal people. Showing their way of life in harmony with nature.
About the Filmmaker
Murugeshwari is a Kanavu Fellow and a social worker from Theni. She closely works with the tribal community and dreams to buld her own NGO soon. She aims to use photography to document stories and amplify her work with the community.