UPDATE
This collaboration between CPB Foundation and Diffusion Festival now enables a total of five grant awards instead of the original plan of four to photographers/lens-based artists for the production of work on their proposed projects, where each artist will receive a grant of 1500 GBP over a period of 6 months to work on their proposed projects.
What the Jury has to Say
-
"The crises we are living amidst today- the pandemic, migration, geopolitical tensions, the calling into question of race and gender inequalities, undermine more than ever the foundations of the concept of "nation-state" born in the 19th century. At the same time, these tensions reveal a continued intense desire to build community beyond borders or even simply with our neighbors from our building or locality. What sensitive and symbolic narratives can individuals bring out and share from these existing communities and those to come!" - Damarice Amao
-
"Imagining the nation-state allows for an opening into questions of justice, and location, in the world. To imagine this now is a necessary challenge, as our highly volatile and networked world makes for a peculiar space for both its presence and its disappearance." - Monica Narula, Raqs Media Collective
-
"We live in times of great upheaval at every level - ecological, political, economic, social, personal - and the pandemic has brought underlying structural issues into sharp focus, emblematic of a pre-existing systemic crisis. Globally, states and populations have responded to this by populist authoritarian measures and reconstructing nationalism. In India, we witness, through the unprecedented use of mediatic means, the creation of a narrative of an imagined expansive Hindu Nation, markedly different from previous imaginings of the nation. I believe the invitation to critically engage with questions around the nation, states, and identity is both timely and significant." - Sheba Chhachhi - Artist, Writer
-
ABOUT THE GRANT
Chennai Photo Biennale Foundation in collaboration with the Diffusion Festival-Wales with the support of the British Council and Wales Arts International announces the Open Call for a grant for resident photographers and lens-based artists from India and Wales to submit proposals on the theme - IMAGINING THE NATION STATE.
This collaboration enables a total of four grant awards - to two Indian and two Welsh photographers/lens-based artists for the production of work on the basis of proposals submitted through the open call. The works produced by the four artists will be exhibited at the next Diffusion festival in 2021. The work is also likely to be showcased at a subsequent edition of the Chennai Photo Biennale on the basis of available funding and further grant support.
THEME: IMAGINING THE NATION STATE
It is somewhat of a paradox that at a time when individuals are more globally connected than ever before, the idea of "nationhood" remains a powerful unifying force for people.
Could it be that the idea of one's national identity is defined by a common language, history and culture is at odds with the complex, pluralistic and ever-changing state of nations?
Is the term "nation-state" simply an outmoded and divisive construct around which people and land are organised, or does it have contemporary relevance?
Can we create a new, inclusive vision of nationhood compatible with our global responsibilities?
How do we ensure that a nation's innovations, cultural forms, wealth, and resources are harnessed for the common good, not just for the benefit of those living within its borders?
There is often one nation-state, but there are many imaginations of the nation-state depending on where one is speaking from.
Photographers/lens-based artists are invited to engage with these and many such questions in the process of producing ongoing, current, and relevant imaginations of the idea of the nation-state. Specific to such efforts must be an active conceptualization of both sameness and difference, in relation to what is understood to be the template of the nation-state. To this extent, artists might choose to work with many modalities including but not limited to narrative, materiality, symbolism, phenomenology, fantasy, event, and contingency. At the heart of submissions, must be a willingness for conceptual experimentation and a spirit of critique.
*Concept note development: Mathangi Krishnamurthy, David Drake, Chennai Photo Biennale Foundation
Chennai Photo Biennale Foundation and its Welsh partner Diffusion: Cardiff International Festival of Photography (a biennial event curated and run by Ffotogallery Wales) were collectively awarded The British Council Connections through Culture: India-Wales 2020 grant which has made this project possible.
JURY
The applications will be reviewed by a three-member jury comprising of accomplished artists and historians from India and France.
Monica Narula | Raqs Media Collective
Raqs Media Collective was formed in 1992 in Delhi, India by Monica Narula, Jeebesh Bagchi, and Shuddhabrata Sengupta. The word "raqs" in several languages denotes an intensification of awareness and presence attained by whirling, turning, being in a state of revolution. Raqs Media Collective takes this sense to mean "kinetic contemplation" and a restless entanglement with the world, and with time. Raqs enlists objects like an early-modern tiger-automata from Southern India, or a biscuit from the Paris Commune, or a cup salvaged from an ancient Mediterranean shipwreck, to turn them into devices to sniff and taste time. Devices are deployed in order to undertake historical subterfuge and philosophical queries. Raqs practices across several media; making installation, sculpture, video, performance, text, lexica, and curation. They are developing sources around toxicity, care, and luminosity of friendship with artists, and publics, for the ongoing Yokohama Triennale (2020).
Sheba Chhachhi
Sheba Chhachhi is an artist, writer, and activist with feminist and ecological concerns at the core of her work. Chhachhi articulates a range of concerns through her lens-based work including gender, ecology, violence, urbanization, and visual cultures, with a particular emphasis on the recuperation of cultural memory. She began in the 1980s, both activist and photographer, documenting the women's movement in India. By the 1990s, Chhachhi had moved to creating collaborative staged photographs, eventually turning to large photo-based multimedia installations. Chhachhi creates immersive environments, bringing the contemplative into the political in both site-specific public art and independent works. She has exhibited widely in India and abroad; She lives and works in New Delhi.
Damarice Amao
Damarice AMAO is an art historian (Ph.D.) and the Assistant curator of photography at the Centre Pompidou, Musée National d'Art Moderne, Paris. She specialized in twentieth avant-garde European photography and has curated numerous exhibitions with accompanying catalogues including Jacques-André Boiffard (2014), Eli Lotar (2017), Photographie, arme de classe [Photography, as a class weapon](2018), and Dora Maar (2019).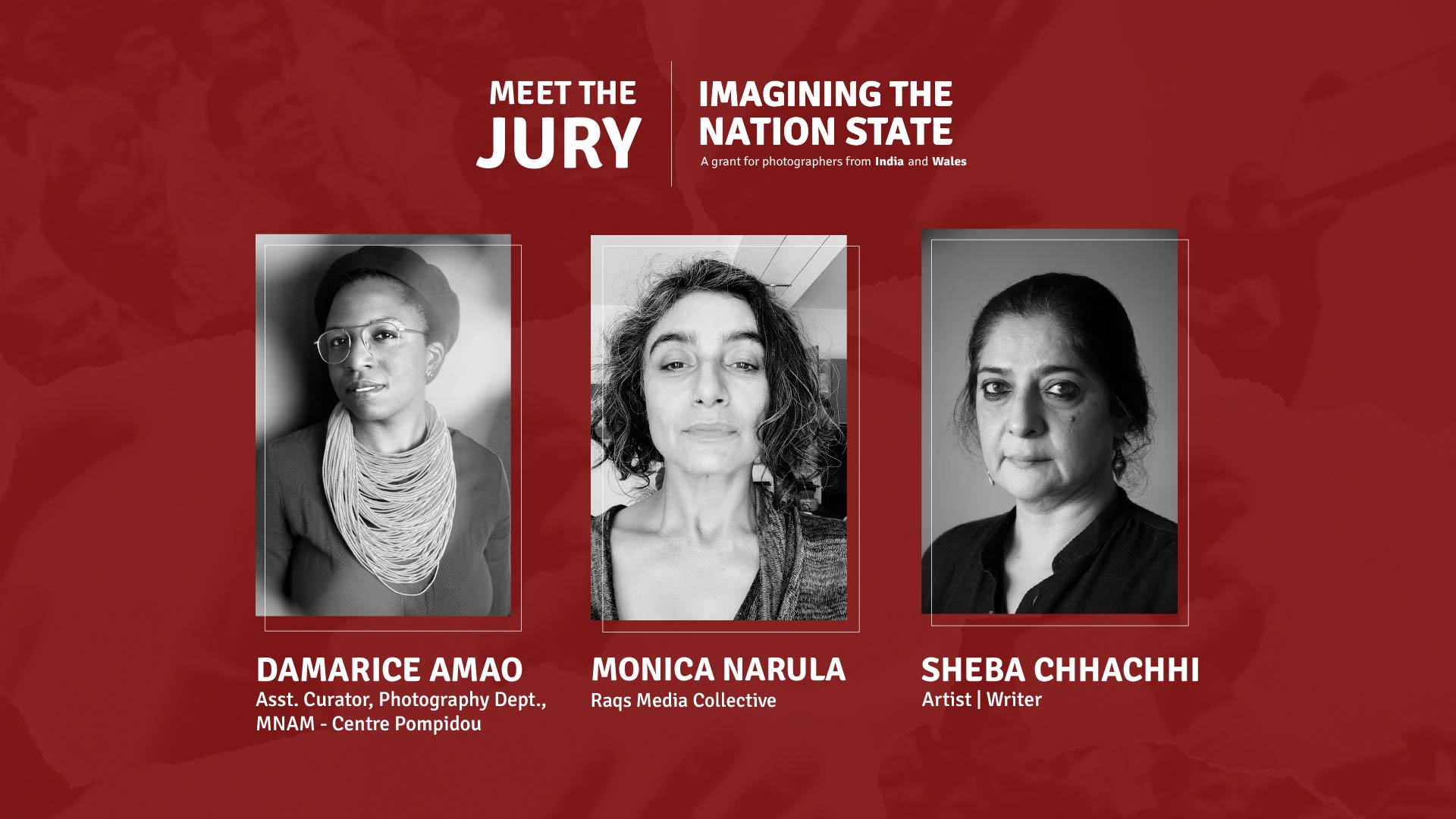 DETAILS
Applicants must be a resident of either of the two countries

OR

Applicant is of non-Indian or non-Welsh origin and has concurrent resident permits from 2015 of either of the two countries valid at least till Dec 2021.

The grant amount being awarded is 1500 GBP per artist and will be issued to the awardee in four parts - the details of which will be emailed to the awardee upon selection and announcement.

Shortlisted applicants will be announced 10 days prior to the final award. The jury will be doing video interviews with the shortlisted candidates to arrive at their final decision.

The grant is given to four independent artists towards the production of four bodies of works - two from India and two from Wales. Selected work will be new or development of a body of work under production, but not yet realised in exhibition form.

The grant will also consider if two artists would like to apply as a team offering two interconnected/conjoined proposals (for instance, one proposal supplementing the other, or one could be a photo-based work and the other a video work).

The four awardees can choose to work independently or collaborate with each other and take their projects forward.

In support of their proposal, applicants should submit an ongoing body of work or have a folio of work from a similar genre to supplement their written proposal.

No single-image works will be considered for the grant. Your submission should be a series from one body of work/project.

The grant is towards the production of the work and should include a reasonable fee for the artist. Every proposal will be required to present a detailed timeline and how the artist intends to spend the grant amount on the basis the production timeline.

Exhibition/presentation costs, including printing, framing, installation, invigilation, and interpretation, will be determined and met by the curating organisations, subject to available resources.

In consultation with the artists, work created and submitted will be used for promoting the grant via social media, newsletters, video, and traditional media. Awarded artists will be expected to provide material from their project and remain available for interviews with the media and with CPB Foundation and Diffusion/Ffotogallery social platforms. The organisers' and granters' websites will also serve as a portal for collating the processes and outcomes of the entire project.

Exhibition of final works at either Diffusion 2021 or CPB will be designed basis available funding and venues in conversation with artists.

By applying to this grant, applicants implicitly agree to abide by the grant terms and conditions and keep to timelines specified. Failure to reach milestones or participate in follow-up communication may result in withdrawal of further grant funding.

Should the production of the work require more time and the artist-awardee is unable to meet the deadline due to health reasons or unforeseen circumstances, the artist should contact the grants committee immediately at grants@chennaiphotobiennale.com