---
Come and experience the magic of Analogue Photography. Our two part, hands on workshops, explores the basics of Black and White film based photography; from capture, to the processing of film and printing the images. The CPB Foundation is excited to open its new community darkroom for the first time with this weekend workshop series. Whether you're a seasoned photographer or a complete novice, this workshop series is designed to help you develop and expand your skills.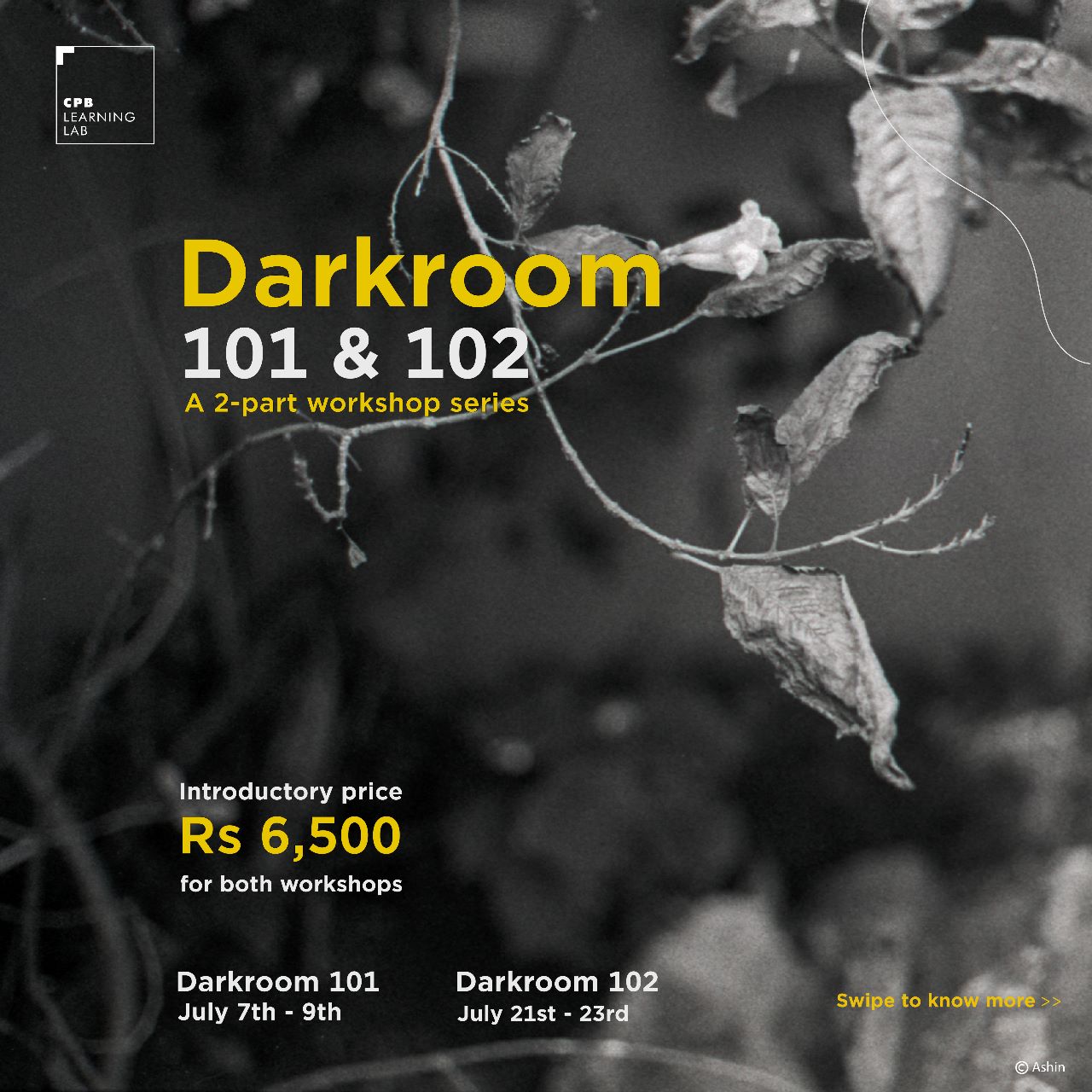 ---
Darkroom 101 - Shooting & Developing Film 
Batch 1: Friday, May 26th to Sunday, May 29th 2023 - Sold Out
Batch 2: Friday, June 2 to Sunday, June 4th 2023 - Just Announced
Workshop Cost - Rs 3,500 per person for Darkroom 101
Rs 6,500 total for a combo of 101 & 102
Student Discount - 25% against valid student ID
Rent a Film Camera: Rs 600 for 48 hours (T&C apply)
Group Size - Minimum 4 up to a maximum of 10 participants.
Venue: CPB Foundation, Kotivakkam, Chennai.
Are you interested in learning the fundamentals of film photography and gaining hands-on experience with developing and scanning your own rolls of film? Then don't miss out on our upcoming three-day workshop on the basics of film photography!
This workshop is designed to provide participants with an introduction to film photography. You'll learn how to use a film camera, properly expose film, develop your own rolls, and scan your negatives. Each participant will have the opportunity to shoot two half-rolls of film and develop and scan their own rolls under the guidance of an experienced instructor.
By the end of the workshop, you'll walk away with a new appreciation for the art of film photography, as well as your very own set of developed and scanned negatives. This workshop is a great opportunity for anyone interested in film photography, whether you're a beginner or an experienced photographer looking to expand your skill set.
---
Darkroom 101 - Schedule
Friday - July 7 - Presentation and Classroom Practice
4 pm to 7 pm - Welcome Note & Introduction to Film Photography
Welcome Note by the instructor

Round of introductions

Discussing the Why of film photography

A brief history & overview of film photography

Show & Tell - looking at various cameras and formats

Knowing your camera 

Knowing your Film and understanding characteristic like grain, speed etc.

Metering with your camera

Loading film into the camera

Unloading film

Spool loading film for development
Each participant will receive 2 (two) half rolls of 35mm black and white film to shoot and develop. On day 1 we will help you load the first roll into your camera. You will have the following morning to step out and shoot the roll. 
Saturday - July 8 - In Lab Demo & Hands-on practice
12 pm to 12.45pm: Demo on Film Development & Scanning - 
[participants must complete shooting the roll before 11 am]
How to prepare the environment 

Choices of chemistry and dilution

Mixing chemicals 

Steps of development 

Timing and agitation 

Drying the negative 

Cutting and storage

Scanning - Resolutions & Format
1 pm to 3 pm - Lab Hours - Developing - 1st roll  
Participants will work in pairs to develop their own rolls of film. Once the negatives are dry you will have to scan your negatives. During the scanning process, the mentor will provide feedback on results and indicate areas/methods for improvement. 
3pm - 3.30pm - Demo - Scanning
4 pm to 7pm - Lab Hours - Scanning
All participants will receive a 2nd half roll of film to load, shoot, develop and scan before 4 pm on Sunday. 
Sunday - July 9 - Lab Hours & Slideshow with Group Discussion
6:30pm - 8:30pm - Critique & Discussion
Participants can sign up for slots in the lab and scanner between 10 am to 4 pm to complete their 2nd roll. All participants must have completed scanning both rolls by 4 pm on Sunday. 
5 pm to 7 pm - Critique & Discussion
The instructor will work with each student to identify 2-3 images from the two rolls of film scans. The selected images will be projected and the group will gather to discuss informally the learnings from the experience. The CPB team will outline ways in which participants can expand their interest in analogue photography and opportunities to continue shooting and developing film.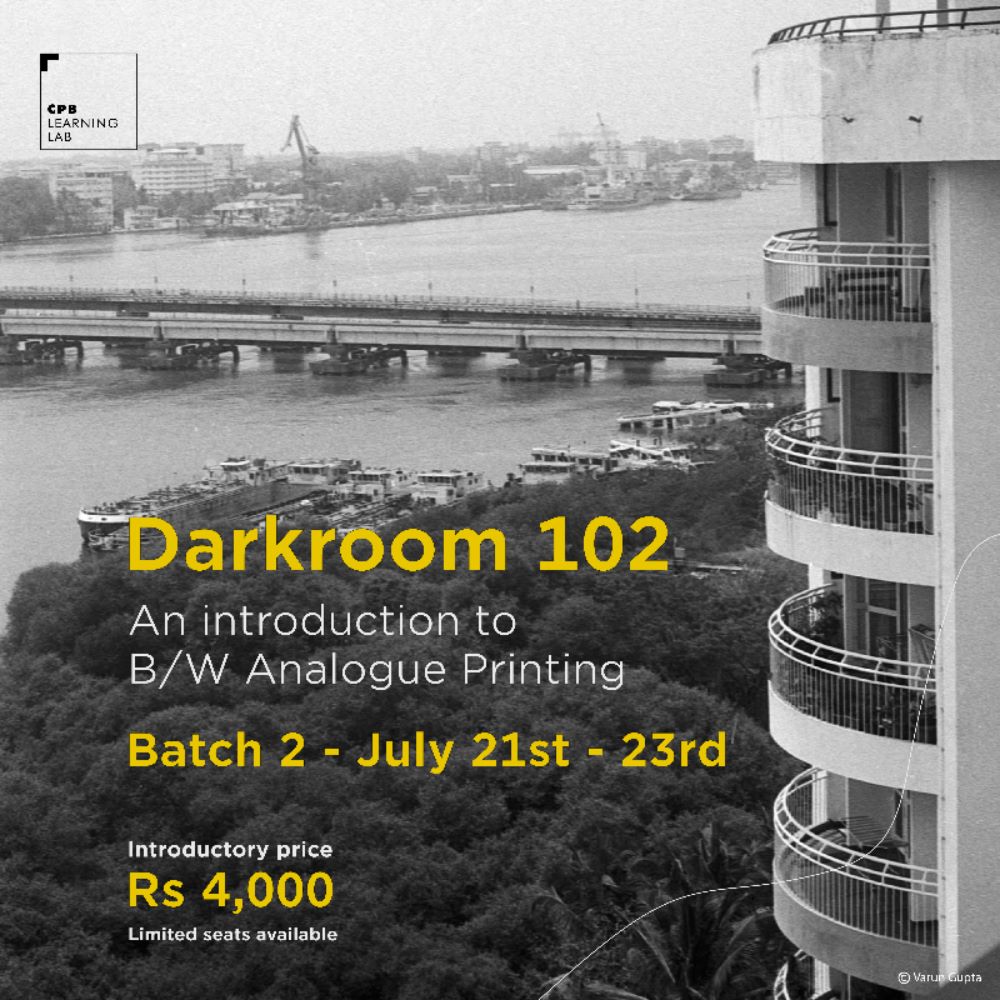 ---
Dakrooom 102 - Contact Printing & Enlargements
Batch 1 - Friday, July 21 to Sunday, July 23 2023
Workshop Cost - Rs 4,000 per person for Darkroom 102
Rs 6,500 total for a combo of 101 & 102
Student Discount - 25% against valid student ID
Group Size - Minimum 4 up to a maximum of 10 participants.
Student Discount - 25% against valid student ID
Venue: CPB Foundation, Kotivakkam, Chennai.
In part two of the workshop, participants will explore and gain knowledge on the art of analogue printing. They will discover how to make contact prints of their negatives and select the best ones for printing. Using photographic paper, they will create stunning enlargements and learn about contrast adjustments, dodging, and burning techniques. With guidance from our expert mentors, participants will also have the opportunity to fine-tune their printing skills and create their own unique prints. 
Finally, participants will get to showcase their prints at an impromptu exhibition held within the CPB building. This exhibition provides a wonderful opportunity to receive feedback from mentors and guests while enjoying the company of fellow film photography enthusiasts. Don't miss out on this amazing chance to take your analogue photography skills to the next level! Whether you attended Part 1 or have experience with film photography, you're welcome to join us for this weekend's workshop.
Each participant will receive a total of 6-8 sheets of assorted sized sheets of photographic paper for use during the workshop. Participants will be mentored to experiment with different negatives and to make multiple prints with subtle improvements. Additional sheets of paper will be available at discounted rates. Participants will have access to a flatbed scanner should they wish to digitise their final prints.
---
Darkroom 102 - Schedule
Friday - July 21 -  Lab Orientation & Demo on Contact Printing
4 pm to 5.30 pm - Welcome Note & Introduction of Concepts
Welcome Note by the Instructor

Round of introductions

Discussing the Why 

Introduction to Analogue Printing

Show & Tell - looking at various analogue prints
6 pm to 7 pm - Demo on Contact Printing
Darkroom Safety and Etiquette

Preparing the darkroom for printing

Mixing Chemicals

Making Contact Prints

Exposure Testing

Developing, Fixing, Washing & Drying
Saturday - July 22 -  Introduction to Enlargements
10 am to 12 pm - Lab Hours - Making contact prints for at least two rolls of film
12 pm to 1 pm - Demo - Making Enlargements
Selecting a negative

Enlarging & Focussing

Cropping

Lens & Exposure Adjustments

Calculating Exposure time

Making a first enlargement

Development, Fixing, Washing & Drying

Contrast Adjustments using filters

Dodging & Burning
2 pm to 6 pm - Lab Hours - Making your first enlargement
Day 2 of the workshop is a complete hands-on day where particpants will discover their own rhythm of working in the darkroom. Starting the day by making contact prints of their negatives, participants will move on to creating their first enlargements. 
Sunday - July 23 - Making Final Prints & Exhibition
10 am to 1 pm - Lab Hours - Fine-tuning prints
2 pm to 4 pm - Setting up of impromptu exhibition
4.30 pm to 7 pm - Open House - Exhibition open to guests
The last day of the workshop is all about making final prints that will be exhibited. Once the exhibition is up, the group will move around the space and engage in an informal discussion and critique. Participants are encouraged to invite their personal guests to visit the exhibition and enjoy a cup of tea and discussion with like-minded folks.
---
Who is the workshop for?
This workshop series is open to anyone interested in film photography over the age of 16. Participants are required to have a film camera to attend Part 1 of the workshop and/or developed film negatives to attend Part 2 of the workshop.
Participants should ideally have a basic understanding of photography including how to expose an image with manual settings - shutter speed, aperture and ISO to make the most of this workshop. If you are not familiar with this material or would simply like a refresh - consider signing up for a pre-workshop refresher course on Thursday, May 25th 2023 at no additional cost.
---
Terms & Conditions:
The workshop costs include all materials required including film, chemistry, photographic paper, access to enlargers and the darkroom, access to scanners as well as mentorship and guidance during the workshop period. 

To receive a student discount please send an email to darkroom@chennaiphotobiennale.com with a clear scan/photo valid student ID. Valid submissions will receive a student discount code to be used for online payment on this page. 

For students under the age of 16 who are interested in attending, we welcome parent and child combos as long as both are actively engaged in the workshop. Please write to darkroom@chennaiphotobiennale.com and we will guide you on how to book a combo price. 

After each workshop, participants will have access to the darkroom as well as film and paper stocks at discounted prices so that they can continue their film photography journey. 

Participants renting a film camera are required to provide a security deposit of Rs 3,000 (in cash only) as well as an original ID which will be returned against the safe return of the camera.
---
About the CPB Community Darkroom:
We are at a critical juncture in human history. With the birth of promptography, we are now in a new age of imagery generated by Artifical Intelligence where the sanctity of the photograph is in question. As if a billion images an hour made on millions of mobile phones was not enough, now a mere thought can generate high-definition images in just about any style you can imagine. In response, the desire to return to the roots of the photographic medium grows stronger by the day. 
The CPB Community Darkroom has been established at this critical juncture as a hub for the experimentation and practice of analogue photography in its many avatars. Serving a diverse range of interests from film and traditional darkroom printing to alternative printing processes, the Darkroom looks to attract varied audiences from across Chennai and beyond.
The darkroom will be open to members as well as the public via a booking system and will be able to provide readily accessible stocks of chemistry, film and paper. 

The darkroom will offer regular introductory and advanced workshops in all areas of film photography as well as alternative printing processes like cyanotype, van dyke brown and salt printing and many others. 

The darkroom will serve as a research hub for experimentation in analogue photography and will put out freely available articles and videos on the subject.

The darkroom will offer a range of products that include re-spooled film rolls, experimental film chemistry, alternative printing kits, pre-coated papers, digital negatives and more.

The darkroom will offer commercial film development, scanning and printing services including alternative printing services.

The darkroom will be available for resident artists to work on projects and experiment with historical photographic processes.